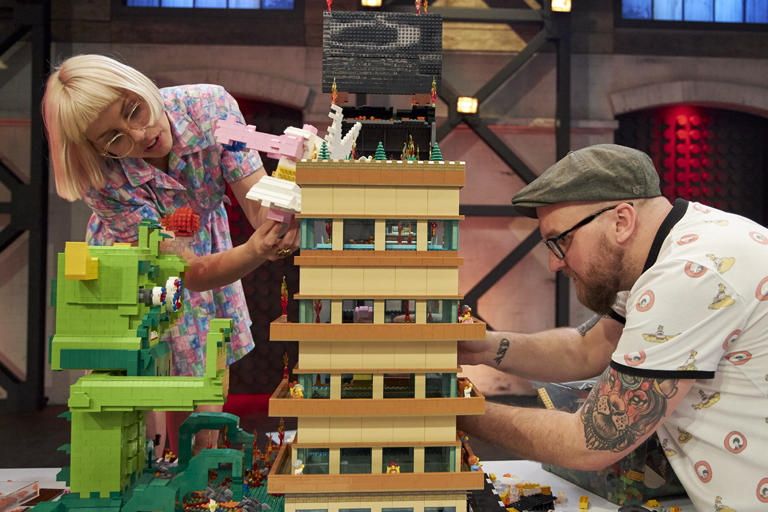 Endemol Shine announces MIPCOM slate for 2019
02/10/2019
• Already travelling VR property series Your Home Made Perfect leads formats line-up
• Debuting are new fact-ent series The Cocaine Trails and Treasure Island with Bear Grylls, as smash-hits LEGO® MASTERS and All Together Now return
• Endemol Shine International launches thrilling new dramas Deadwater Fell, Adult Material and Fifty as well as all-star cookery show My Greatest Dishes
Global content creator, producer and distributor Endemol Shine Group today announce their format and finished tape line-up heading to Cannes this year.
Your Home Made Perfect, the brand-new VR (virtual reality) property makeover series from Remarkable, the creators of All Together Now, is heading up the diverse fact-ent focused line-up. Premiering as the No.1 show of the day when it launched on the BBC in April, the series uses cutting-edge VR technology and visual effects to radically transform the homes of contributors beyond their wildest dreams.
Making its international debut is The Cocaine Trails, a new game-changing reality series, from Simpel Media in the Netherlands. Due to launch this autumn the format takes a group of millennials on a life changing journey to the origin of their drugs in order to make them realise the impact their use has on brutal crime, death and destruction, human trafficking and environmental pollution.
Also launching at MIPCOM this year is Treasure Island with Bear Grylls, the next instalment of the reality series from Shine TV which takes The Island to the next level. 12 ordinary citizens will be marooned for a month on a tropical island, battling for their survival under the watchful eye of Global Adventurer Bear Grylls, but this time a life changing sum of cash is up for grabs.
Following on from taking the UK, Australia and Germany by storm, and the news that it has been snapped up by Fox in the US, fast-growing unscripted hit LEGO® MASTERS, from Tuesday's Child, will return to Cannes alongside K7's fastest travelling new format of 2018, All Together Now which has sold to 14 markets across Europe, Russia, Australia and Brazil, with second series' commissioned in the UK, Italy, Denmark, Brazil, the Netherlands and Poland.
Lisa Perrin, Endemol Shine Group's CEO of Creative Networks says;
"We're introducing a fresh, solid, super exciting line-up to MIPCOM this autumn, which demonstrates just how broad and diverse our approach to factual entertainment is. It's amazing to enter a market with distinctive and ingenious formats making their debut and we can't wait to see everyone on The Croisette."
On the finished tape side Endemol Shine International's portfolio will be led by the darkly gripping scripted thriller Deadwater Fell. Kudos' 4×60' psychological piece, written by Daisy Coulam (Grantchester), stars David Tennant (Broadchurch, Doctor Who, Good Omens) and Cush Jumbo (The Good Fight, The Good Wife, Vera) and explores the cause and aftermath of violence and unthinkable tragedy on a small Scottish town.
It will be joined by Adult Material Lucy Kirkwood's (The Smoke, Skins, Chimerica) new 4×60' drama from Fifty Fathoms. Hayley Squires (I, Daniel Blake, The Miniaturist), Siena Kelly (Vanity Fair, Temple), Joe Dempsie (Game of Thrones, Deep State) and Rupert Everett (Another Country, My Best Friend's Wedding) lead the cast of the series which delves inside the porn industry from the perspective of a woman who has been working in it her entire adult life and has seen it grow from an illegitimate backroom enterprise to a mainstream and highly profitable arm of the telecommunications industry.
Fifty from Endemol Shine Israel is an eight-part comedy drama which is also making its debut this market. Created by renowned novelist and screenwriter Yael Hedaya ("In Treatment") Fifty tells the story of 49-year-old widowed screenwriter Alona Nachmias, played by Ilanit Ben-Yaakov who is struggling to raise her three children and has two important goals to achieve before she turns 50. Firstly, to sign a development deal for a comedy series she wants to write about 50-year-old women. Secondly, to have sex.
On the finished factual front is all-star cooking show My Greatest Dishes from Sidney Street Productions (20×30') which celebrates four important dishes that have influenced the lives of 20 extraordinary chefs. Each episode will delve into one chef's culinary past, as they recreate four recipes from significant moments in their life. Chefs in the series include Prue Leith, Tom Kerridge, Monica Galetti, Michel Roux Jr, Giorgio Locatelli and Angela Hartnett.
Further series being showcased by Endemol Shine will also include returning scripted smash-hits Deep Water, Peaky Blinders, Grantchester and Tin Star.
Cathy Payne, CEO, Endemol Shine International,
"We have an exceptional line-up of high-end scripted shows leading us into this market in Deadwater Fell, Adult Material and Fifty which join our returning hits Peaky Blinders and Grantchester. Each has a well-regarded cast, with timely and important stories and are totally enthralling too. Coupled with My Greatest Dishes, which takes a different, more intimate look at some of our most internationally renowned chefs it's set to be an exciting market."