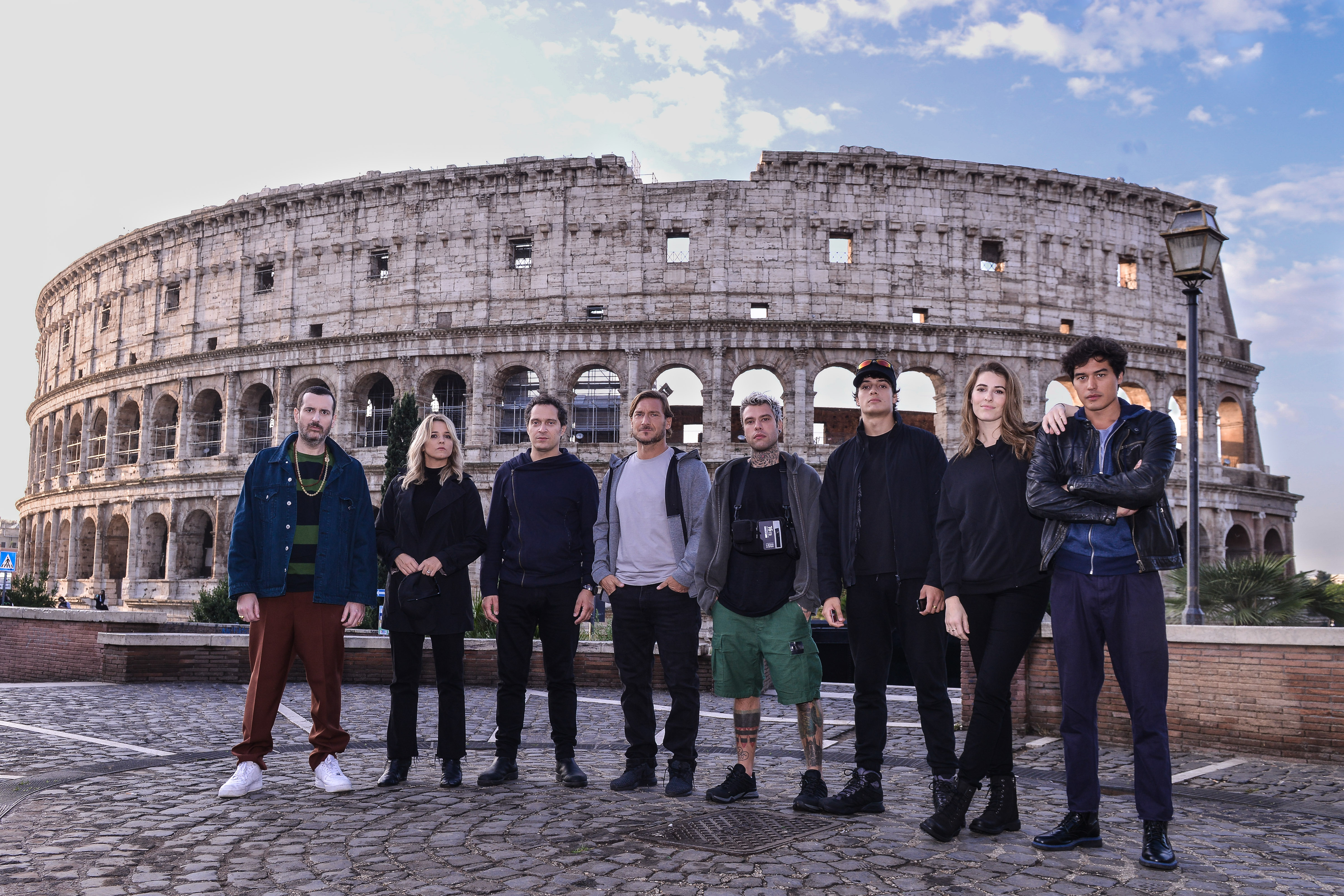 Amazon announces first unscripted Italian Original TV Series Celebrity Hunted – Caccia all'uomo
08/10/2019
Exciting line-up of celebrities including Francesco Totti, Fedez and Luis Sal, Claudio Santamaria and Francesca Barra, Costantino della Gherardesca, Diana Del Bufalo and Cristiano Caccamo all set to appear in the new Prime Video show
Celebrity Hunted – Caccia all'uomo is produced by EndemolShine Italy and will launch exclusively on Amazon Prime Video in more than 200 countries and territories in 2020
London, 8 October 2019 – Amazon Prime Video today announced its first unscripted Italian Amazon Original series Celebrity Hunted – Caccia all'uomo, a real-life thriller over six episodes where celebrities go on the run from a team of expert hunters. The show brings together eight Italian celebrities including football player Francesco Totti, artist Fedez, YouTuber Luis Sal, actor Claudio Santamaria alongside the journalist and writer Francesca Barra, popular anchorman Costantino della Gherardesca (Pechino Express), plus actors Diana Del Bufalo (Che Dio ci aiuti, C'era una volta Studio Uno) and Cristiano Caccamo (Matrimonio italiano, Questo è il mio paese). Celebrity Hunted – Caccia all'uomo is produced by EndemolShine Italy and will launch exclusively on Amazon Prime Video in more than 200 countries and territories in 2020.
Celebrity Hunted – Caccia all'uomo will see the celebrities attempt to stay off the radar and remain at large for 14 days across Italy with limited financial resources. Hunting them down are some of the most renowned and feared Italian professional investigators, cyber analysts, online profilers and human trackers from law enforcement and military intelligence. The Hunters can use any legal means to trace the celebrities including call tracing, CCTV, number plate recognition and freedom of information requests.
"With Celebrity Hunted – Caccia all'uomo we are bringing a truly innovative concept to viewers," said Georgia Brown, Director of European Amazon Original Series, Amazon Studios. "Quality production and A-list talent make this show unique and we are excited to bring this never-seen-before manhunt adventure exclusively to Prime Video in Italy."
"We are very proud to be producing Amazon Prime Video's first unscripted show in Italy, once again playing a pioneering role in a continuously evolving market," said Leonardo Pasquinelli, CEO EndemolShine Italy. "Celebrity Hunted – Caccia all'uomo is a revolutionary format with innovative storytelling thanks to its suspenseful and thrilling elements. The show sets up a unique challenge that will never have been seen on TV before".
Hunted was originally created in the UK by Shine TV, part of Endemol Shine Group and this deal marks the eighth adaptation for the format around the world.
Contestants
Francesco Totti: Also known as The Captain, Francesco Totti is an icon of Italian football and considered one of the best of all time. In a career spanning from 1989 to 2017, Totti played for Roma which saw him winning Serie A, two Coppa Italia's and two Supercoppa Italiana titles. In 2006 he won the FIFA World Cup with the Italian national football team. He also won eleven Oscar del Calcio awards from the Italian Footballers' Association, the 2007 European Golden Shoe and the 2010 Golden Foot. Following his retirement in 2017, Totti was awarded with the Player's Career Award and the UEFA President's Award.
Fedez and Luis Sal: Friends in real life, Fedez and Luis are now allied strategists in this adventure.
Fedez is an Italian artist, rapper, singer and songwriter, and one of the judges on popular talent show X-Factor Italia.. In 2011 he recorded his first self-produced album with a budget of only €500, Penisola che non c'è, before releasing his first single for a major label, Si scrive schiavitù si legge libertà, in January 2013. The song was later included in the album, Sig. Brainwash – L'arte di accontentare, released by Sony Music. His fourth studio album, Pop-Hoolista, was released in 2014 and includes duets with Malika Ayane, Francesca Michielin, Noemi, Elisa and J-Ax.
Luis Sal is one of the most popular YouTubers in Italy. In 2018 he published his first book, Ciao, mi chiamo Luis, which became a best-seller on Amazon Italy.
Claudio Santamaria and Francesca Barra: This married couple are now teaming up for Celebrity Hunted – Caccia all'uomo. Claudio Santamaria is an Italian actor, internationally known for his role in Casino Royale. He began his career in 1997 with Fuochi d'artificio, directed by Leonardo Pieraccioni, before working with Italian directors Gabriele Muccino, Marco Risi and Bernardo Bertolucci. In 2016, Santamaria won the David di Donatello Award for Best Leading Actor in the movie Lo chiamavano Jeeg Robot. Francesca Barra is a journalist, writer and TV and radio host. Her career has seen her act as a host and panellist on some of the biggest TV stations in Italy including Rai, Mediaset, Sky, and La7. On 27th January 2018, she announced her candidacy for the forthcoming parliamentary elections.
Costantino della Gherardesca: Italian journalist and TV and radio host Gherardesca graduated with a degree in Philosophy at London's King's College before starting his TV career as the host of popular Italian TV shows including Pechino Express, Boss in incognito and The Voice of Italy. He is a contributor for Rolling Stone and Vanity Fair magazines.
Diana Del Bufalo and Cristiano Caccamo: Diana Del Bufalo is an Italian actress who has starred in several TV series including Che Dio ci aiuti and C'era una volta Studio Uno. Her career began in 2010 when she took part as a singer in the talent show Amici di Maria De Filippi before becoming one of the most popular internet personalities in Italy. She has also hosted numerous TV shows including Pianeta Mare, Music Summer Festival and Colorado. Cristiano Caccamo is an Italian star of stage and screen who made his TV debut in 2015 on Italian series Questo è il mio paese.
Celebrity Hunted – Caccia all'uomo will join the thousands of TV shows and movies in the Prime Video catalogue, including award-winning and critically-acclaimed global Amazon Original series including Tom Clancy's Jack Ryan, Good Omens, The Grand Tour, Homecoming and The Marvelous Mrs. Maisel, all on Prime Video, which is available at no extra cost for Amazon Prime members.
Prime members will be able to watch all episodes of Celebrity Hunted – Caccia all'uomo anywhere and anytime on the Prime Video app for smart TVs, mobile devices, Fire TV, Fire TV stick, Fire tablets, Apple TV, and stream online. In the Prime Video app, Prime members can download episodes on their mobile devices and tablets and watch anywhere offline at no additional cost. Prime Video is available in Italy at no extra cost to a Prime membership for just EUR 36 per year. New customers can find out more at www.primevideo.com, subscribe and start the free period of use for 30 days.